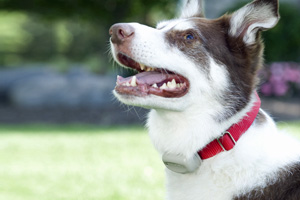 When we say we want to keep your pet safe and secure, we mean it! That's why we're proud providers of Pet Stop® brand electronic pet containment products. In the first place, designed to be extremely user-friendly and highly customizable, Pet Stop® fencing products are on the cutting-edge of technology. They are expertly innovated to work flawlessly with our Gentlesteps™ training technique. Additionally, most receiver collars are Invisible Fence® compatible! Hands down, Pet Stop® products mean a better value and quality for you and your pet. Thus, why settle for anything but the best?
Pet Fencing Products 100% Made in the USA
USA manufacturing may seem like a dying breed. Nevertheless, reliability will never go out of fashion. Pet Stop® electric dog & cat fencing products are made to last! Our products are not just "assembled" in the USA. Moreover, they're built – right down to the circuit board. The engineering team, warranty department, and company President are all under the same roof in our Morgantown PA plant. They continue to make quality pet fencing products the way things used to be built.
---
New Product – The EcoLite Rechargeable Receiver Collar
Introducing Pet Stop®'s latest receiver collar, the new RECHARGEABLE EcoLite! Weighing in at just over 1 ounce, EcoLite is not only the smallest collar in this industry, it is also the most flexible! With over 8000 programmable settings, it has a range of correction power from barely felt to hard hitting. Particularly, it is perfect for sensitive dogs, high drive dogs, and every dog in-between.

Hence, if you're going green, the environmentally friendly EcoLite is the receiver collar for you! The Ecolite is rechargeable, which means no more annual battery costs and battery disposal. Additionally, it comes with an optional night light feature that will let you visually track your pet if they're outside at after dark.
---
Featured Underground Electric Fence Systems
---
The UltraElite Series 2 Fencing System

The UltraTuff Fencing System

The Pet Stop® OT-200 has been the premium transmitter in our lineup for several years. It allows programming of the more advanced Ultra Elite 2 and EcoLite collars, with access to all settings.
The Pet Stop® OT 300 provides a more consumer friendly programming experience. It comes along with all of the great features of the Pet Stop® OT-200 transmitter.

self healing surge protection
digital signals
lifetime warranty

self healing surge protection
digital signals
lifetime warranty
User friendly programming
---
Other Fencing Systems and Accessories
Indoor Pet Fencing System

Our premium indoor transmitter provides collar programming capabilities. Furthermore, it sends a signal through floors and walls as needed.

An alternative to hard wiring your home, these portable devices can be used to block doorways, hallways or kitty litter.

---

The Univeral Remote Trainer

For training basic behaviors with a remote correction, the Pet Stop® universal remote trainer allows you to press a button and issue just a warning tone, or escalate and issue a firm correction.